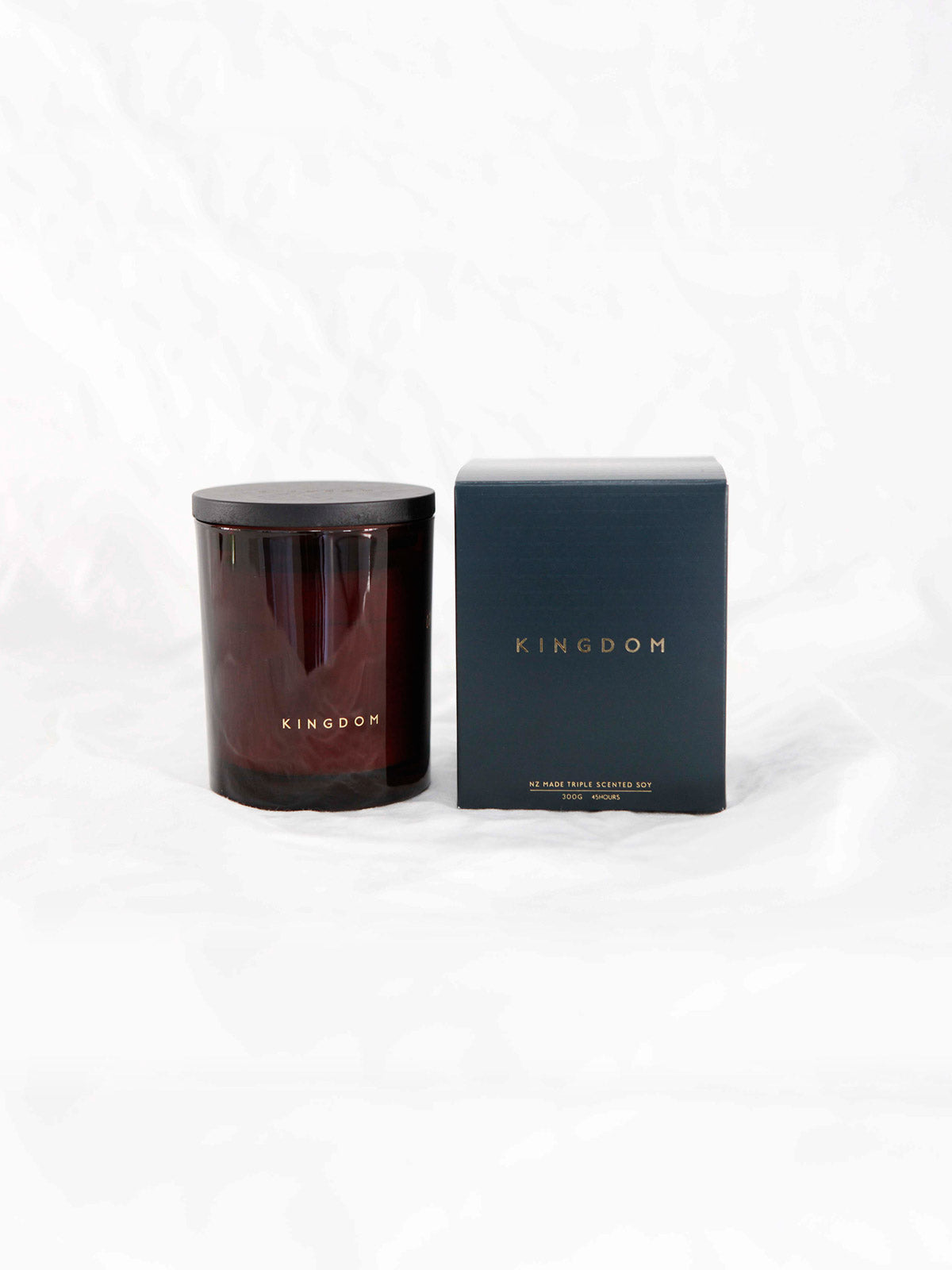 Kingdom Soy Candle
Sale price

$49.90 NZD
Regular price
(/)
Combining the ancient alchemy of fine fragrance, with sleek, contemporary design, Kingdom candles are an everyday luxury with scents to elicit a simple yet powerful transcendence.

With high-quality oils sourced from around the globe, the fragrances of Kingdoms natural soy, triple-scent candles are captivating, transporting you to another place in time.

- 300g
- Up to 50 hour burn time
- Triple scented Soy
- Hand crafted in NZ


1) Lemongrass & Lime
Let oriental influences transport you to the peace and simplicity of a Balinese villa, where Ylang Ylang flowers hang heavy.
Frangrance Note: Lemongrass, Kaffir Lime, Ginger, Lemon Peel, Star Jasmine, Manderin, Rosewood, Vanilla Bean, Ylang Ylang

2) Vetiver & Ivy
A mysteriously masculine edge with warm, earthy, smoky notes and subtle kicks of Freesia, Cedar, Mistletoe and Musk
Fragrance Notes: Fressia, Ivy, Cedar Leaf, Fir, Mistletoe, Musk, Sandalwood, Lavendar, Leather, Lime, Oud, Amber, Smoked Oak, Vitiver, Frankincense, Coastal Spices

3) Clove & Tobacco
Spicy and aromatic Clove sits comfortably with the heady scents of Tobacco and Leather.
Fragrance Notes: Tobacco, Leather, Clove, Geranium, Oakmoss, Oud, Patchouli

4) Fig & Bergamot
Evoking scents of ripe Fig orchids growing under the Tuscan sun.
Fragrance Notes: Fig, Bergamot, Pomello, Fig Leaf, Rosewood, Cedarwood, Balsam, Amber

5) Frankincense & Myrrh | Limited Edition
There are scents that define an occasion or a celebration, scents that evoke old memories and create new ones. Fresh Pine needles on the Christmas tree, the scent of spice, rich cloves and brandy while waiting for the Christmas pud to cook, or the scent of an aromatic champagne that has just been popped on Christmas morning while carols are being played in the background.
Frankincense & Myrrh is a whimsical fragrance reminiscent of ancient times. It's rich, captivating notes of Clove, Amyris, Patchouli, Balsam, Frankincense & Myrhh make for a magical and memorable scent to adorn your home with this festive season!
Fragrance Notes: Clove, Frankincense, Nutmeg, Myrrh, Amyris, Balsam,Patchouli, Cedar, Cinnamon

Please note: This item is available for shipment within New Zealand only.
Kingdom Soy Candle
Sale price

$49.90 NZD
Regular price
Choose options